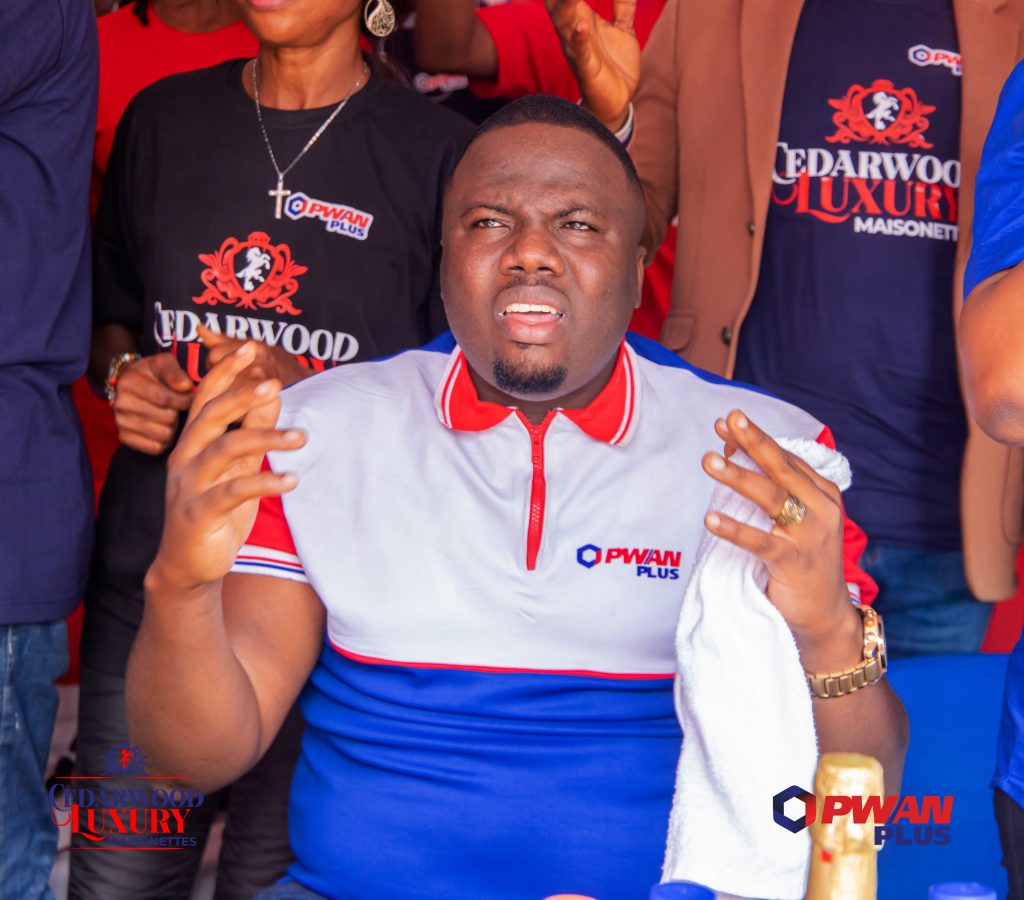 January 9, 2023

157 views

0 Comments
Just getting back to work, after what he described as "a great outing last year", the Managing Director of PWAN Plus, owners of Cedarwood Brand of Luxury Apartments, Dr. Julius Oyedemi, has said that his firm is set to commence actual construction of the much-awaited Ikoyi Cedarwood Luxury Maisonettes, in the first quarter of 2023.
The real estate guru disclosed while rolling out a set of incentives that he said his firm has carefully put together, to ensure the enjoyment of excellent service delivery to their numerous clients and lovers of the Cedarwood Luxury Brand, in 2023.
Dr. Oyedemi, who had embarked on the mission to provide affordable luxury homes for all beginning in 2020, said: "The year 2022 has been a great one for the Cedarwood Luxury brand in terms of expansion, service delivery to clients and in terms of quality construction. We have been able to surpass customers' expectations to above 90%, even though we still have ongoing developments to meet up. For the remaining 10%, construction is ongoing for those customers."
Speaking in an exclusive interview held at his Trimetrix Towers, Lakeview Park Estate, located on Lekki-Epe Expressway, Ajah, Lagos, the Cedarwood boss added: "In terms of quality construction, we have been able to put all standard measures, both from the government agencies, relevant private and professional institutions, in place and they are being maintained on sit. So, we maintain quality standards and excellence in our constructions; because we've engaged the best hands in what we do."
The Cedarwood boss added that there is already a positive shift for the Cedarwood Luxury brand, in terms of the outlook and plans for this year (2023). He explained that "Just before Christmas, we had a three-day retreat outside Lagos, with our staff. The purpose of that retreat was to re-engineer, reprocess and re-energise every staff for the year ahead.
"One of the things that retreat did for us was to focus on excellent customer service. We believe that there is going to be a top-notch service delivery. Client's complaints will be very minimal; because even before they say Jack their expectations are already met.
"We are also introducing technology into our operations. We will engage relevant professionals and consultants so that, next year our customers get automated receipts. The introduction of this payment gateway will ensure that as they are paying online, they are getting their receipts for whatever property, product, or services they paid for; and their documents collected immediately. A lot is being put in place to see that we deliver intact."
According to the innovative real estate professional, necessary measures have also been put in place to improve on payment of commissions to its independent marketers and to ensure that they get their clients' allocation documents pronto. "There is the serious overhauling of our operations such that this year it will be very seamless. As clients pay, they choose their plots, they know their plots. So, the issue of allocation becomes seamless. We are also going to surpass expectations in the area of building construction this year. Last year, before clients who are paying in installments paid up, we delivered the buildings. This year, we are still going to repeat that feat to make sure that our customers enjoy the quality and excellent service delivery," the innovative CEO added.
The Cedarwood boss, however, assured lovers of luxury homes and apartments that his firm will roll out new projects in the New Year; adding that the Ikoyi Cedarwood Luxury Maisonette will start in the first quarter of 2023. "The phases 2nd and 3rd phases of the Cedarwood Luxury Apartments and Terraces are also commencing this year. If you have seen our Phase 1, you will see the beautiful work that has been done there.
"Our customers should expect much more luxury than what we have in Phase one. The locations of these new projects are just within the same neighbourhood. Phase three is coming up near the Monastery Estate here near Lekki Novara Shoprite, Songotedo. This is a highly sought-after environment, everybody wants to be there. Phase two is located inside Ajayi Apapta close to our Phase one. We are looking at extending outside Lagos to Abuja. So, our customers should expect to see us in Abuja this year; and we will be expanding to the Southeastern cities of Aba, Onitsha and Enugu. Our concern is to make sure that there is a presence of luxury estate in every state of Nigeria; yes people can afford Luxury," Oyedemi added.
Has he experienced any challenges in the course of trying to provide affordable luxury homes for all? Oyedemi took a swipe at the financial institutions in Nigeria saying: "Funding is a big challenge. To be honest, our financial institutions cannot be relied upon. If there is adequate funding, construction/development will be very fast. When there is poor funding, it will also be slow. Today, the interest rate on borrowing is over 30%, up to 40%.
"I had an experience whereby we took a very small loan and you find out that within the period of payment, the rate is changing and increasing. When do you ask why? The banks will tell you that 'it is not their fault; it is due to the Central Bank's change in policies and current economic realities.' Don't forget that the gap in housing deficit is still very wide. Now, the government is not even doing so much in that area of need, the government is also trying to partner with the private sector.
"If we have access to funds at a minimal interest rate, building developments will be easier and faster. The truth is funding is a major challenge.  For instance, imagine buying a property of one billion naira in Ikoyi to develop. If one billion is all I have in my account, how do I get the money to develop? One billion is a huge amount of money, not everybody can have. What if that is all I have? That is a very big challenge."
Oyedemi also identified the unavailability of sufficient numbers of indigenous artisans such as tilers, painters, etc as another challenge to real estate developers in Nigeria. He said "By God's grace our projects are being handled by the best hands and they are local content. But they are few in supply. I think the government should do something to improve our technical schools and technical institutions. I can authoritatively tell you that if a developer wants to get the best hands to handle tiles-laying, he will have to look beyond the shores of Nigeria to get competent artisans. The good hands are found in the Benin Republic or Togo. The big question is what are Nigerians doing? In the technical space today, we are on the verge of losing it to outsiders such as Chinese, Indians, Lebanese and even neighbouring African countries.
"We've had experiences whereby we had to wait for these Togolese boys because they are good. When they tile your house for you, you can see that they maintain excellence and professionalism. But our people do it anyhow; the lines don't align, so that's another challenge." The Cedarwood boss called on the government to improve technical schools in the country so that local artisans can acquire proper training. "Painting is a big challenge. We don't have enough good painters. The percentage is low. In today's space, good painters are not from this country. It is a challenge in its own right," Oyedemi stressed.
The last challenge, according to the innovative Cedarwood boss, is about enhancing the government approval process. He explained: "My team and I have been able to visit some government agencies to make them see us as friends and not as enemies. The reception has been great. They have been able to educate us on how to go when we want to execute projects; what to do so we don't fall into a penalty.
"That has helped us because ordinarily we always think that they don't even want to give us an audience. But no, that narrative is changing; the government is giving the needed guidance like they will tell you do this, provide that. And you do accordingly, you get your documentation and approvals without many bottlenecks."
It was reliably gathered that the Cedarwood Luxury brand is very mindful of maintaining a cordial relationship with its host communities; and that the firm has incorporated that into its budget for the year 2023. "During the COVID-19 lockdown, I led the team that gave palliatives to people in all the local governments where we operate. Last year also, we installed boreholes in areas where we operate just to avail them of good water.
"Several Omoniles are on our payroll; we train and engage them as technical staff, security personnel and artisans. That is part of giving back to society; and a lot of these are still part of our CSR budget in 2023. CSR is something we don't joke with because there is no way a business can survive in an environment if it doesn't carry along members of the environment as stakeholders. So, every environment we launch into, we make sure that we carry the people along as stakeholders."
Invariably, Cedarwood Luxury brand has a remarkable culture of staff and partners welfare, Saturday INDEPENDENT learnt. This year, a lot of our marketers will be empowered with mobility. The real estate industry is changing. One cannot be marketing a product of 200 million and he or she is walking on foot. I do not agree. So, we are going to package our marketers with gifts of cars as well as send them for quality training.
"Sometimes in the past, we sent some to Lagos Business School. We will be sending more people to acquire quality training. To optimise our operations, we need to do this. It is going to be a year loaded with expectations and we are not leaving any stone unturned. Every staff, marketer and stakeholder will be served well. For me, the biggest expectation is for them to actualise their dreams. If I can, in 2023, make our marketers actualise their dreams, then my job has been done," Oyedemi said.